TRUTH TO POWER 2 at Pleiades Gallery
Two new pieces of mine, "One Buck 2" and "Ghost Dance" will be included in the TRUTH TO POWER 2 at Pleiades Gallery in Durham, NC. This year it was juried by Kenneth G. Rogers of NCCU. The opening reception is from 6-9 pm, Friday, July 18, 2014.
https://www.facebook.com/PleiadesGallery?fref=photo.
This community art show focuses on matters of social justice. I decided to enter the following pieces because I wanted to  use "earth spirituality" to make political statements…basically showing how it can be subdued by our national corporate commercial focus: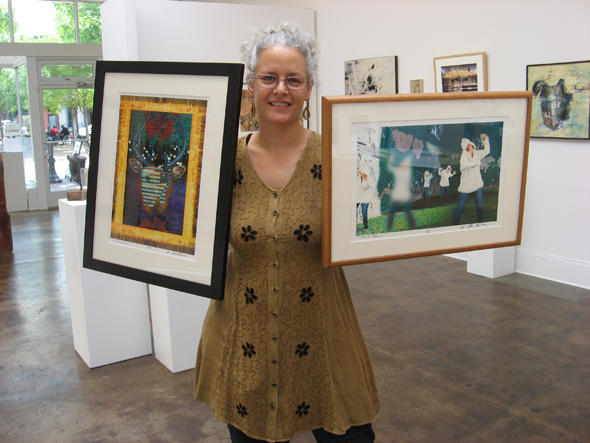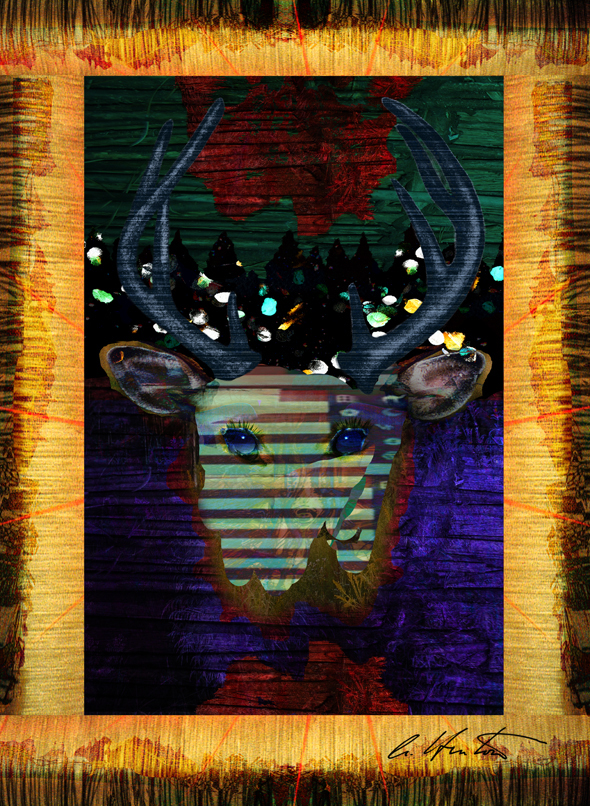 Dimensions (width x height, in inches): 18 x 22″ framed
Medium: mixed media composite pigment print
Statement: The title of this piece alludes to the original slang term "buck" (one dollar bill), meaning one deerskin during the days of the deer skin trade. This is an environmental statement, with the deer being shown as a magical, mystical creature. The earth-animal-cosmos connection is being masked or cloaked by abstract stars and stripes (flag imagery). Venus, the morning star, is also known as the deer star, the deer signifying a new day. I am using this symbology to represent looking forward to an environmentally conscious civilization.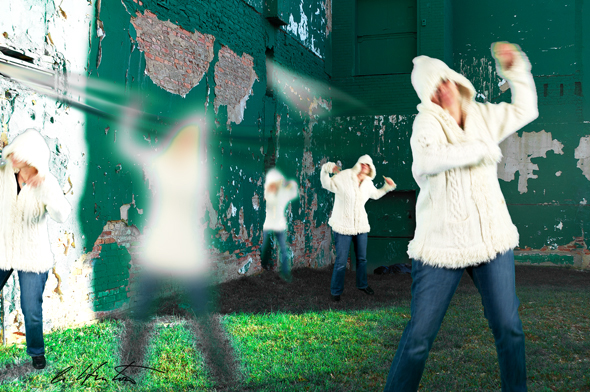 Dimensions (width x height, in inches): 16 x 22″ framed
Medium: pigment print of digital photo composite using figures (myself), green screen and peeling green wall off of Main Street in Durham
Statement: Historically, the Ghost Dance of 1890 was a new religious movement incorporated into numerous Native American belief systems. According to the prophet Wovoka's teachings, proper practice of the dance would reunite the living with the spirits of the dead and bring peace, prosperity, and unity to native peoples throughout the region. The basis for the Ghost Dance (circle dance) is a traditional ritual, which has been used by many Native Americans since prehistoric times. In this photo I have placed myself doing a singular inner city ghost dance right off of Main Street Durham (part of this wall now has a fish mural painted on it) to signify the desire to connect with the spirit world in this day and age. In our modern daily grind and "business as usual" the predominant paradigm seems to run rough shod over the spirit side of life, numbing the mind and "steam rolling" the soul. As Einstein himself said (which has been kept under wraps for years) "Everyone who is seriously involved in the pursuit of science becomes convinced that a spirit is manifest in the laws of the universe – a spirit vastly superior to that of man."