Dr. Edward Washington Acquires Large "Ancestral Plane" Print!
Dr. Edward Washington, premier chiropractic physician & applied kinesiologist of Durham (Broad Street Chiropractic), has recently acquired "Ancestral Plane" shown here in his home. This is a large format archival print on rag paper, limited edition of 175.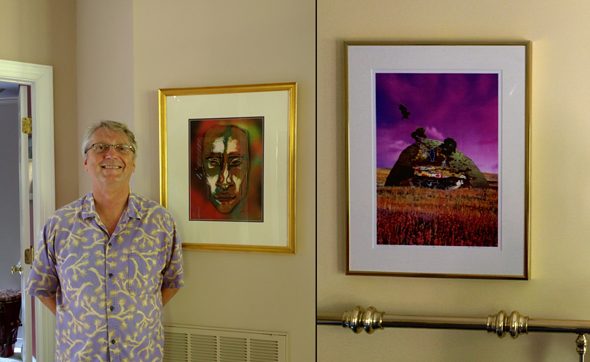 In Dr. Washington's own words:
"Ancestral Plane is my most recent addition to my collection of Alyssa Hinton's art and is now my favorite. Each time I look at Ancestral Plane it provokes uplifting feelings as it is "beaming with life and rejuvenation". At first glance the beautiful array of colors awakens and energizes me, then a sense of hope, calmness, knowing and peace follow. Some words I use to describe or interpret Ancestral Plane are homecoming, awakening, dream state, reunion, third eye, guardian, and consciousness. I like thinking of Ancestral Plane as my "dream catcher" and placing it where I sleep has been healing."
"Ancestral Plane" (right) is an archival pigment print of a mixed media photo collage (the original collage is owned by a resident of Chapel Hill, NC).
Click here to purchase an archival pigment print of "Ancestral Plane"
Dr. Washington has many of my works in his home, including the "Ska-roh-reh" piece seen in the photo above (left). This meditative mask-like portrait combines features of family and tribal relatives to create an archetypal Tuscarora Indian face.
Click here to see a close up of "Ska-roh-reh", or purchase an archival pigment print
---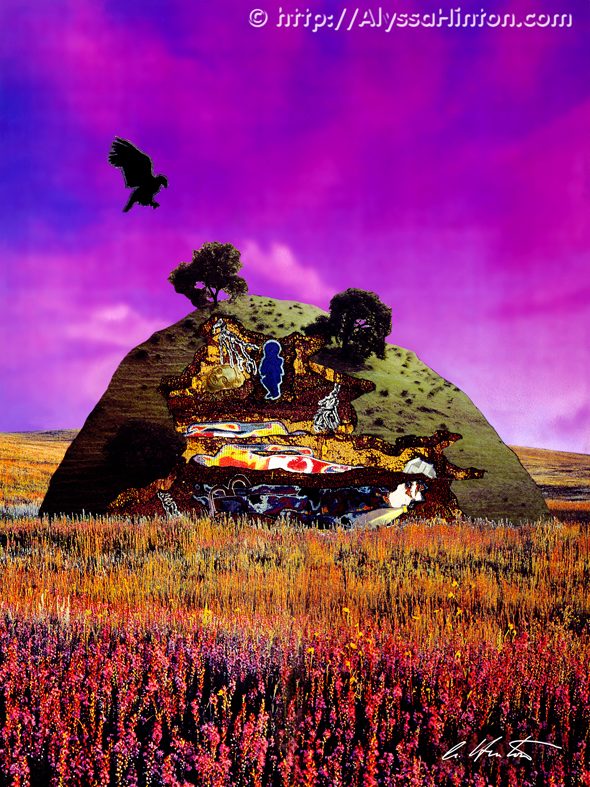 Published by:
Star River Fine Art Prints
---
Win the "Ancestral Plane" Greeting Card 3-Pack!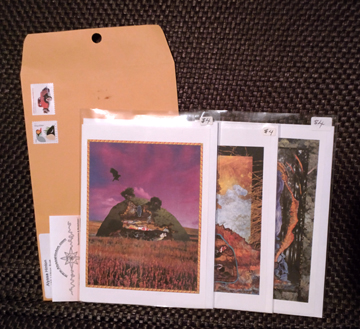 Subscribe to my newsletter or refer a friend to subscribe and win a free "Ancestral Plane" greeting card…plus 2 more cards from the "Spiritual Ground Series" (as shown).
…Just suggest and share the Alyssa Hinton Newsletter archive link below:
AlyssaHintonNewsletter
…and tell them to click the "Join Our Mailing List" link. Be sure to have them fill out the "Referring Member" field so I know who you are.
…OR fill out the "Subscribe To Our Mailing List" form on the right side bar of any page here on my web site.
…Offer good until Christmas 2016