November-December 2016: #HandsOffMyHeritage at Colorado State:
"Mum's The Word: Plantation Memory" quilt is included in Duhesa Gallery's #HandsOffMyHeritage show, this themed group exhibit is about appropriation of Native American culture.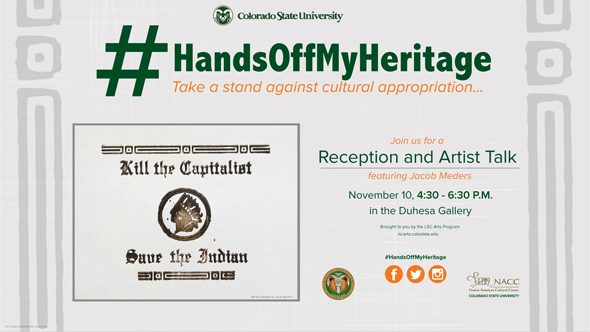 #HandsOffMyHeritage is on display from November-December, 2016 at Duhesa Gallery, located at Colorado State University at Fort Collins. This is the same venue I had my "Earth Consciousness & Cultural Revelations" show in November of 2015.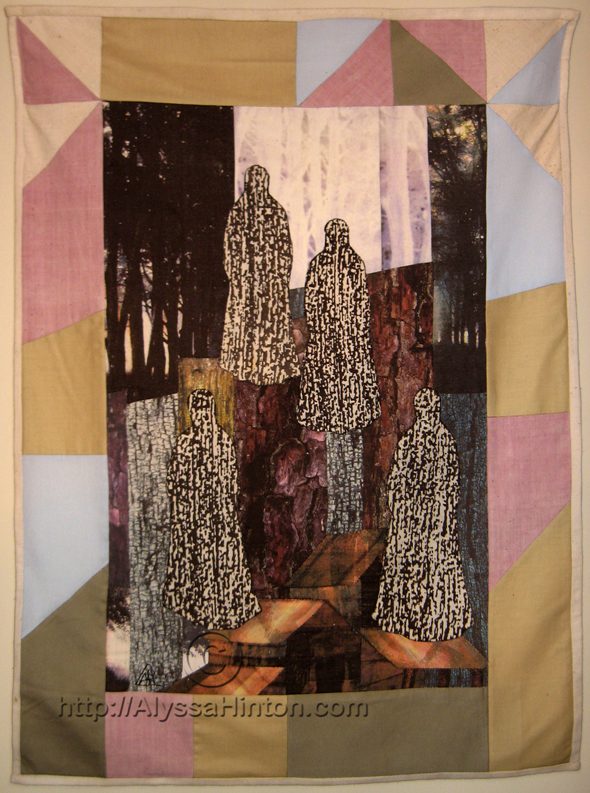 Medium: cotton appliqué with digitally printed and plain machine and hand woven cloth, both hand and machine sewn
Dimensions: 44″ x 32″
MY CULTURAL APPROPRIATION STATEMENT BELOW:
This digitally printed fabric collage is the quilted version of the "Mum's The Word-Plantation Memory" photo collage and is about the little known fact (historical secret) of Indian slavery on southern plantations. In this case the ancestral figures (spirits) are poised in front of a typical eastern North Carolina tobacco shack. It's based on my experience locating the tobacco plantation where my Indian ancestors were slaves.
A southern tobacco plantation is a very foundational and rudimentary form of cultural appropriation indeed, and one that reaped much profit for share holders. This is one of the earliest industries "grafted onto" and set up by the colonists, with indigenous people as the tobacco technicians, in much the same way African slaves were used for their expertise in rice production.
-Alyssa Hinton