Friends and colleagues, The Collector's Collaborative invites you to come and connect with the top collectors of artist ALYSSA HINTON:
The "Spiritual Ground" Series: "Spiritual Ground" mixed media photo collage series (1996 – 2000) are intricate collage images made from photographic cutouts with occasional found imagery or drawing added. On average, I've layered 25-40 seperate contoured fragments to create the effect. "The Spiritual Ground" Series is inspired by questions and experiences relating to my cultural heritage and personal spiritual growth. It reflects my connection to, and reverence for, the natural environment and the mysteries of the cosmos. I like to think of it as "visual soul", a refuge from our materialistic work world slumber, and a window through which we can look inward and outward at the same time. I believe that artists of any background can play a key role in bringing people face to face with their history and culture by recounting and recovering what has been forgotten or seemingly lost. As memories and visions emerge in my consciousness, the process of creating becomes a vehicle for ancestral awakening and reconnection. In turn, this inspires me to communicate a universal message of transformation and rebirth by affirming earth consciousness and the coming together of our one tribe; the human race."
The "Awakening" Series: "Awakening" series small edition archival pigment prints (2001 – present): This expressionistic series is a form of mixed media collage I call "Mixed Media Composite". The process involves piecing together photographic elements with original hand rendered art and digital editing to create a hybrid. There is a conceptual merging as well through the combination of organic patterns, figures and cultural references. The overall message has to do with the reawakening of southeastern Indian culture and of sensitivity toward the environment, a concept intrinsic to traditional Native American cultural values and relevant to people of all walks of life!!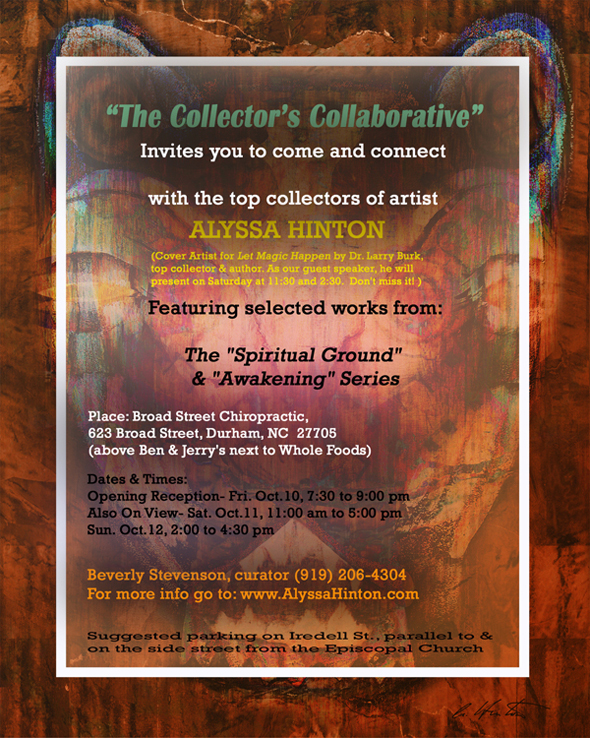 Please join me for this special Collector's show including works of mine owned by Ed Washington, DC, and Larry Burk, MD., CEHP on display at Dr. Washington's office, Broad Street Chiropractic above Ben & Jerry's next to Durham Whole Foods. There will be an opening reception on Friday, 10/10/14, 7:30-9 PM. On Saturday, 10/11/14, Dr. Burk will be giving brief Let Magic Happen book talks at 11:30 AM and 2:30 PM discussing his healing journey represented in the medicine wheel images I created for his book cover (as some of you know, I constructed and researched medicine wheels for my masters thesis at NC State).
The show will continue until 5 PM on Saturday and from 2 to 4:30 PM on Sunday, 10/12. The Jaguar background on the attached flyer is one of the pieces Larry owns.
Special thanks to Dr. Edward Washington! Works owned by Dr. Washington will also be on exhibit.