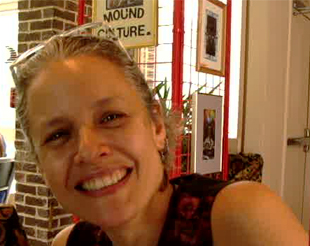 "As a visual artist, I work in a variety of mixed media combinations ranging from painting, to collage, to digital composite, to assemblage and appliquéd fibers. All of these approaches address parallel themes of Native American cultural reawakening and human kinship with the natural environment. My work illustrates the organic beauty I find in the elements and invokes the concept of transformation, often using southeastern mound culture designs and concepts. 
My overall style is influenced by traditional Chinese painting techniques, which I studied in Beijing in the early eighties. This disciplined training taught me to capture the random configurations of trees, mountains and water and to portray the essential contrasts found in nature.
Being of mixed ethnicity, I see mixed media as a form of reconciliation, where the unsettled fragments of my eclectic life experience are sewn together like sections of a patchwork quilt. By making use of the versatility of digital technology and photography in combination with conventional hand-rendered artwork, boundaries between mediums blur to create hybrid art forms. A conceptual merging also takes place through the distillation of organic patterns, human and animal depictions, spiritual/metaphysical content and cultural references. Through these processes multiple layers of meaning unfold to tell stories of old and new.
I like to think of my work as a window through which one can look inward and outward at the same time. Ideally, the contemplation of the formal and poetic beauty of a piece reinforces a sense of connection with, and sensitivity towards, our life support system, the earth."