IMPACTED NATIONS HONOR THE EARTH TOUR PREMIERES in NEW YORK – By Steve Cowley
New York, NY (10/27/2005) – With fifty pieces of artwork spanning the continent, Impacted Nations premiered in New York City at the Nathan Cummings Foundation to an enthusiastic crowd. Following an invocation by Lance White Magpie, First Eagle, from Pine Ridge, SD, Winona LaDuke, of Honor the Earth, welcomed everyone to a broad array of American Indian contemporary art. Impacted Nations portrays the conflict between Native peoples' cultural and spiritual relationship to Native land and the economic forces that undermine that relationship and Indigenous ways of life. The show also features artwork depicting renewable energy sources such as solar and wind power.
"By bringing Native art and resistance into the spectrum of mainstream fine arts and culture, we include the voices of the most vocal and passionate communicators: the fine contemporary and traditional art of Native peoples who live in remote villages, reservation towns, border communities, and urban centers," Janeen Antoine, (Sicangu Lakota) , Impacted Nations curator explained.
Why now?
"The fact is that out of two trillion tons of oil on the planet, we have used one trillion (most of it in the past fifty years), and at the rate of current consumption, we will use the remaining reserves in the next 40 years," answered Winona LaDuke, Honor the Earth's director. "The concerns of Indigenous peoples are concerns of the American economy. The US is the largest energy market in the world, and a lion's share of that is in transportation. The next steps on the road ahead will be different, and will be challenging."
In fact, New York City is one of the largest energy markets in the world. In the l980s and l990s, Cree communities pleaded with the New York Power Authority as a part of the James Bay II struggle to stop a huge dam project in northern Quebec. After a heated battle, that dam project was "put on ice" by Hydro Quebec, and the tenacious activists were able to rest for a short while. New dam projects, however, continue to emerge. As New York City's consumption has not diminished, Impacted Nations will focus on the impact of energy in the Northeast and the potential for renewable energy and conservation. Artists such as Mohawk Pete Jemison presented a huge mural on cloth of the Kinzua Dam, a historically controversial project which flooded Seneca lands for New York power, and other work depicted dam projects in Canada.
Nathan Cummings Foundation
The New York exhibit will be available for viewing at the Nathan Cummings Foundation through January 20, 2006. After New York City, Impacted Nations will travel to Minneapolis, MN, Pine Ridge Reservation, and a number of other cities and reservations.
The show's curator Janeen Antoine (Lakota) welcomed the American Indian community in New York City to the official opening whose many special guests included Rosemary Richmond, Executive Director, American Indian Community House; Ali El Issa, CEO, Flying Eagle Woman Fund; Tonya Gonnella Frichner, President and Founder, American Indian Law Alliance; Elizabeth Slocum, Managing Director, Econsults; Diane Fraher, Founder, Amerinda, and Lloyd Oxendine, who for over thirty years has dedicated his professional life to advocating for American Indian artists in New York City. To the delight of the attendees the evening included Native American hors d'oeuvres prepared and catered by Native Sisters Harvest and music by Soni Moreno and the Indigenous Sounds of Matou.
Janeen Antoine co-founded the American Indian Contemporary Arts (AICA) in 1983. As Executive Director since 1987 she has been actively organizing traveling art exhibitions across the US, Mexico, Central and South American, Argentina and France.
Antoine introduced four artists whose works adorned the walls of the Foundation exhibit: Nadema Agard (Cherokee, Lakota, Powhatan), America Meredith (Cherokee), and Kelly Church (Grand Traverse Bay Band of Chippewa and Ottawa). Erica Lord (Athabaskan/ Inupiaq), told the crowd, "It's exciting as an artist to be in this exhibit. It allows us a voice to be heard."
Lance Lindblom, President and Chief Executive Officer of the Nathan Cummings Foundation was all smiles at the opening. "It's perfect! It's exactly what we wanted. We are so thrilled to have such a meaningful exhibit such as this," he said.
"As a Foundation we only provide grants three or four times a year. This exhibit is administered under our Environment Program and the Arts and Culture Program(s)." He explained that the show was already available for viewing earlier in early October by special invitation and proudly announced that this evening was the official opening for the public to view and enjoy the art.
Natalie Marker, Honor The Earth's Associate Director, thanked Nathan Cummings for their support, and said that the project would need more support for the national tour. "We are interested in socially responsible donors." Marker said. She said this was only a start for the traveling exhibit; this was only the New York show." They would like as many communities, including Native American, to be able to see the art. They are seeking additional funding avenues including individual donors to finance an extensive and wide-ranging traveling tour.
Messages
Honor The Earth, a fabulous color rendering by Donald F. Montileaux (Oglala Lakota) is based on the historical ledger drawings that were done by captive American Indians from an era long past. This talented artist/illustrator from Pine Ridge, SD, was one of many who captured the historical essence and modern feel of contemporary Indian life. Montileaux's inspiring pictograph-styled adaptation of ledger drawings of the mid-19th century depicts an expansive windmill in the center of an actual bookkeeper's ledger. His windmill is idyllically constructed of feathers and ribbon patchwork; in the four corners are drawings of horses. And inside of these scenes are Indian dancers; banjo-playing Rock and Roll musicians; and chiefs and warriors…and more windmills.
"If Washington can have their monument we can have this (exhibit). As artists too often our message goes over the public's heads when we use Indian humor. Don't forget that humor is certainly a part of the subject matter, like the 'Uranium Womyn' painting by LisaNa Red Bear," smiled artist Pena Bonita, Apache.
"(It's) good to use art because people are attracted to it and people will get the message. These are talking about environmental issues that are important to all of us," said Veronique Lozano.
---
ANCIENT TRADERS GALLERY, MINNEAPOLIS, MN
February 9, 2006
Haunting and hopeful "Impacted Nations" illustrates environmental devastation and solutions
Honor the Earth exhibit opens with reception on Friday, February 24
"Impacted Nations," an exhibit that illuminates the intersection between American Indian artists and environmental concerns, opens at Ancient Traders Gallery, 1113 East Franklin Avenue, Minneapolis, from 5-9 p.m. on Friday, February 24. The event is free and open to the public.
The exhibit, currently traveling across the United States, is a creation of Minneapolis-based Honor the Earth, a national Native American foundation and political advocacy organization. The tour was launched at the Nathan Cummings Foundation in New York City in October.
With more than fifty pieces of artwork spanning the continent, the exhibit portrays a conflict: the cultural and spiritual relationship of Native peoples to their land versus the economic forces that undermine that relationship and American Indian ways of life.
"This nation's appetite for energy devastates Native land with energy developments that destroy the entire web of life," said Janeen Antoine, exhibit curator. "The artists' collective works articulate a broad view – of the dark realities of dirty energy and of the hopeful vision for tribal wind and solar power. The exhibit encourages Native nations to be leaders in developing the alternative energy resources so abundantly provided."
Through a stunning array of styles and mediums, the art illustrates the havoc wreaked on Native communities by dams, oil exploration, coal mining, logging and nuclear power.
The contemporary fine art and traditional art of Native peoples in remote villages, reservation towns, border communities and urban centers imbue the show with a passionate voice. From the unsettling "Copper Mother" by Cameron Chino (Quechan) to the fluid beauty of Blake Debassige's (Obijwe/Mchigeeng) "Mother Earth's Presence" to the overpowering forces of "Modern Day Indian" by Star Wallowing Bull (Ojibwe/Arapaho), the art captivates even as it underscores the land, water and air laid to waste.
"The exhibit is in Minnesota because, historically, tribes here have been impacted by utility companies and energy development," said Winona LaDuke, Executive Director of Honor the Earth. "Through Impacted Nations, Honor the Earth is working to inform people about the negative impacts of energy policy and offer a solution for the future. For example, on White Earth Reservation we are one of the windiest reservations in the state, and we have just received a congressional energy bill appropriation of $1 million for a wind turbine.
The exhibit features a number of regional artists, including Minnesota's Jim Denomie (Lac Courte Oreilles Band of Lake Superior Chippewa) and Star Wallowing Bull (Ojibwe/Arapaho). Following the exhibit at Ancient Traders Gallery, "Impacted Nations" travels to Santa Fe's Institute of American Indian Art, the largest American Indian art museum in the country.
Ancient Traders Gallery is committed to the presentation of dynamic American Indian art as well as informing viewers about issues relevant to American Indians.
AINDC is co-sponsoring the exhibit, a project of Honor the Earth, a national Native American foundation and political advocacy organization based in Minneapolis . Ancient Traders Gallery is one of the exhibit's venues on a national tour that was launched at the Nathan Cummings Foundation, New York City , in October 2005.
"Impacted Nations" runs through April 15, 2006.
---
AMERICAN INDIAN MOVEMENT OF COLORADO
Spirituality – Self-determination – Solidarity – Sobriety
Colorado AIM home page
Honor the earth, IMPACTED NATIONS, art exhibit
Impacted Nations is an art exhibit developed and organized by Honor the Earth
Art: Forever Indian
Politics, pollution and the past haunt and inspire a powerful new show of contemporary American Indian art.
Mary Abbe, Star Tribune
Last update: March 02, 2006 – 3:27 PM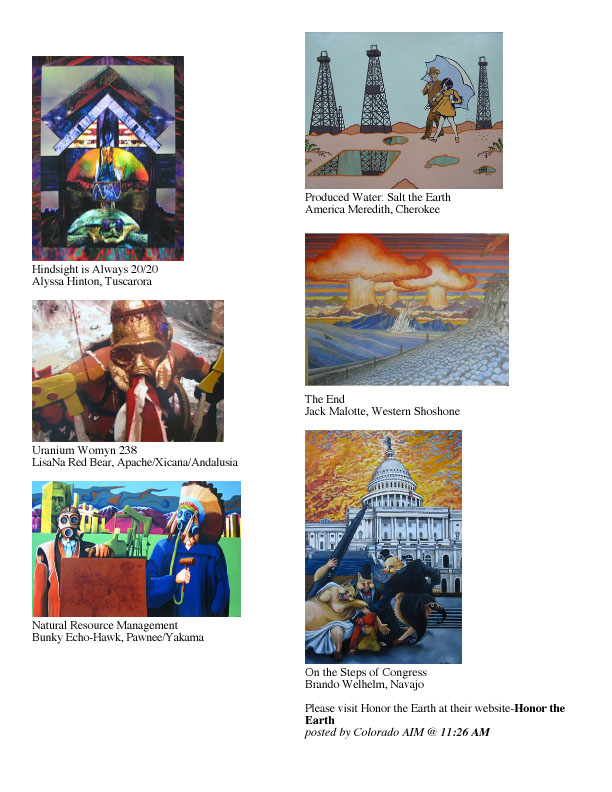 Fresh air, clean water, fertile soil, sunny days. The gifts of a bountiful Earth are simple, familiar and often threatened. For American Indians, whose traditional lifestyles and spiritual values are rooted in the cosmos, the environmental devastation wrought by many aspects of contemporary life tears a hole in the very fabric of existence. Many of the environmental traumas that appear today in communities nationwide — from polluted water to toxic waste dumps and nuclear fallout — have plagued reservation lands for decades.
In "Impacted Nations," a proud and informative show of more than 50 paintings, drawings, prints and sculpture, more than 40 Indian artists grapple with environmental and spiritual themes. Organized by Honor the Earth, an Indian foundation and political advocacy organization based in Minneapolis, the show runs through April 15 at Ancient Traders Gallery in south Minneapolis.
Beautifully rendered in a rich variety of styles — from traditional painting to contemporary ledger drawings and colorful Pop-style images — the art has a tough-minded political edge that sharpens its impact. Helpful text panels explain the tribal history and legends behind many of the images. Beyond raising consciousness about environmental issues, the show provides a meandering road map to policy change, proposing that renewable wind and solar power replace such energy sources as coal, oil and nuclear power……
Across the country, reservation lands have been exploited and abused by industries seeking copper, coal, uranium, oil, wood, water and other resources. The politics are complicated and the treaties and government policies rarely straightforward, as many of the artists' texts explain. Jack Malotte, a Western Shoshone who lives near a nuclear test site in Nevada, used images of glittering, lyrically beautiful mushroom clouds and missiles rising from the desert to illustrate what his homeland would look like as a nuclear "ground zero." More bitterly, Navajo painter Brando Welhelm shows a Hopi maiden attacked by top-hatted "war pigs" on the steps of the U.S. Capitol. The painting, he explains, is a parody of an incendiary 1804 anti-Indian picture by John Vanderlyn.
---
Colorado Springs Independent
Seven Days
Art with an impact
Touring American Indian exhibit illuminates afflicted homelands
by Taylor Wiles
The Smokebrush Gallery hopes to incite viewers' passions with a traveling art exhibition that offers a fresh perspective on environmentalism. Impacted Nations features more than 50 works from the country's top living American Indian artists and tells the stories of their struggle to preserve their homelands.Maybe second only to Christianity, environmentalism is a fountainhead of activity in Colorado Springs. Like the former, the latter is characterized by a battle for conversion — to loving and defending the Earth — that can become tiresome and stale in its endlessness.
"I think a tribal approach is important for everyone to understand as an American — whether you're Indian or not — because native people have been here for millennia, living successfully," says Swedish-Cherokee painter America Meredith.
The show includes a painting by Meredith that depicts brine, or toxic water — a residue from oil drilling that has made stretches of Oklahoma look like the lifeless surface of the moon.
Other themes of the exhibition include the politics of land preservation, wind and solar energy, and water shortages. Each painting is displayed with a list of environmental facts pertinent to the work.
"[The exhibition] is about the conflict between people and the land," says Julie Cole, the gallery director. "It's exploring the tensions about money, politics and resources."
In addition, the exhibition explores conflicts between disparate cultural groups.
"The cliché is that people from different cultures can't understand each other," Meredith says. "The truth is, we can."
Honor the Earth, a Minneapolis-based organization dedicated to supporting the survival of American Indian communities and their environments, is curating the show.
Impacted Nations
Smokebrush Gallery, 218 W. Colorado Ave., Suite 102
Wednesday, Friday, Saturday, noon to 5 p.m.; show runs through July 27.
Call 444-1012 for more info.
---
Honor the Earth's Mission Statement:
Our mission is to create awareness and support for Native environmental issues and to develop needed financial and political resources for the survival of sustainable Native communities. Honor the Earth develops these resources by using music, the arts, the media, and Indigenous wisdom to ask people to recognize our joint dependency on the Earth and be a voice for those not heard.
Honor the Earth describes Impacted Nations as "an artistic collaboration that portrays the conflict between Native peoples' cultural and spiritual relationship to the earth and the political and economic forces that undermine that relationship and our ways of life. As you will see in the artists' interpretations of dams, oil exploration, coal mining, and nuclear power, the United States energy policy has, for decades, negatively impacted our communities."
---
IAIA Museum
INSTITUTE OF AMERICAN INDIAN AND ALASKA NATIVE CULTURE AND ARTS DEVELOPMENT
108 Cathedral Place, Santa Fe, NM
505-983-8900 www.iaiamuseum.org
Impacted Nations 
Traveling Exhibition organized by Honor the Earth
May 12 – June 30, 2006
Dualities
Curated by Margaret Archuleta
May 12 – June 30, 2006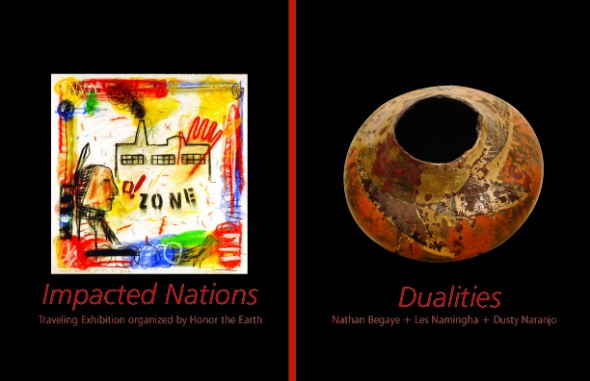 ---