The opening reception date for my current Show "As If Awakening From a Slumber" at the Guilford Native American Art Gallery in Greensboro is Friday evening, August 2nd from 6:00-9:00pm. This will be part of the First Friday celebration in downtown Greensboro and the Cultural Center. My show opening will be combined with a book reading and signing by Charlene Hunt who has written a children's book entitled "You don't look Indian to Me".  The duration of the show is June 27th through August 12th, 2013.
Guilford Native American Art Gallery, 
200 N Davie St, Greensboro, NC 27401
Phone:(336) 273-6605
Click below for directions:
http://www.visitnc.com/listing/guilford-native-american-art-gallery-and-gift-shop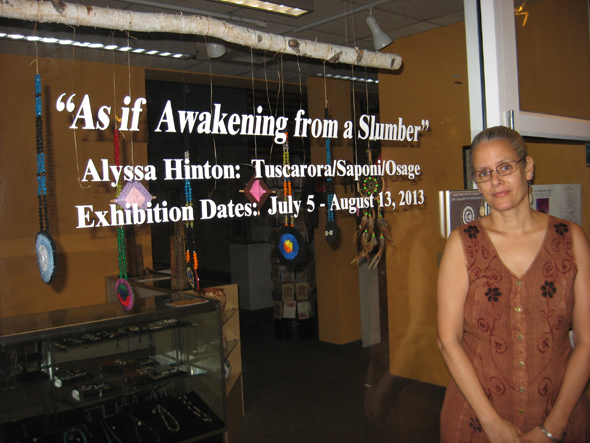 "AS IF AWAKENING FROM A SLUMBER" 
This exhibit illustrates a theme of indigenous cultural reawakening as I explore the folklore and history surrounding my southeastern Native roots. The work is an interlocking of personal imagery, rooted in my personal quest, and of symbolic imagery derived from social, historical and spiritual knowledge. Some of the concepts include death (transition), re-birth, and the concept of transcendence relating to the individual and to society at large. The work also reflects my deep connection to, and reverence for, the natural environment and the mysteries of the cosmos. It carries an earth conscious message while questioning materialism.
I see the collage medium in itself as a form of reconciliation, where divergent elements intertwine to appear as one. By combining digital technology and photography, with conventional hand-rendered artwork, boundaries between mediums blur to create a hybrid art form. This merging is also achieved conceptually by combining organic patterns, historical references, iconic figures and metaphysical content. Through this distillation process multiple layers of meaning unfold to tell a story of old and new.
Many of the images were inspired by dreams and visions, but have also been influenced by history in a very conscious fashion. The work grew out of an ongoing attempt to untangle a complicated web of events pertaining to the displacement of my Indian ancestors (Tuscarora, Saponi and Osage). It brings to light aspects of a distinct but under-represented southeastern Native experience, one whose basic worldview is rooted in ancient Mississippian mound culture.
The practice of art through the veil of history has been an indispensable tool in dealing with issues of cultural identity, and of cultural reclamation. This being the focus, I see my work as part of an unearthing of a subdued and largely erased national and familial history. It is part of a dialogue relating to a larger awakening of Indian identity from many nations across several continents.
I feel it is due time to venture beyond the confines of Pan-Indian culture with it's limited representation of Indians as "western." Our history took place in coastal, woodland, swamp, and river regions. Our people fashioned objects from hemp, shells, bone, stone, clay and pounded metals. They navigated large dug out canoes for fishing, travel and extensive trade. Throughout the southeast were many pyramid-like temple and burial mounds, some of which were the centers of large towns with complex governing systems. This network of ceremonial (Cult of the Dead) and trading centers was known as the "Southeastern Ceremonial Complex" and subsisted on intensive corn-bean-squash agriculture.
The lack of knowledge about the true history and culture attached to our region is partly due to the annihilation of mound culture upon contact with early European explorers, and much later, after the Indian wars of the 1700s, the enslavement of survivors on plantations. In addition to this, the Trail of Tears removed many groups, some of whom were the descendents of the mound builders. Our migration stories trace back to the matriarchal corn cultures of Central America by way of various mound cultures established over time.
Within the context of a slave system that divided society in terms of black and white, the survivors of the southeastern nations, became relatively voiceless. In the case of the scattered Indians of eastern North Carolina, they were forced by the circumstances to identify as black, mulatto, or simply "colored." This is how the Indian identity of my family went underground. It is the act of creating artwork addressing this shrouded history that led me to re-establish ties in North Carolina after locating "long lost" tribal relatives and inherited plantation property, consecutively. This triggered a surge of inspiration and direction for me as an artist as I documented, from a variety of angles, the cultural revelation and "spiritual self recovery" resulting from these events.
I believe artists of any background can play a key role in bringing people face to face with their history and culture by recounting and recovering what has been denied, forgotten or seemingly lost. By taking the risk of delving into the soul of the past and revealing the "submerged," I help to recount a much needed, long awaited true story. This is a collective story, and one that can fill a void, provide historical context, cultural awareness, and even a cathartic outlet.
I think in our current technological era we are experiencing a condition of disconnection from one another and from our own selves. I like to think of my work as "visual soul", and a potential refuge from the driven work world "slumber". As memories and visions emerge in my consciousness, the process of creating becomes a vehicle for ancestral awakening and reconnection. In turn, this inspires me to communicate a universal message of transformation and rebirth by affirming earth consciousness and the coming together of the "human tribe."
-Alyssa Hinton