"The Awakening: Parallel Worlds"
Mixed media composite artwork highlights American Indian cultural reawakening.
Alyssa Hinton, whose show "The Awakening: Parallel Worlds" is on display at UNC's FedEx Global Education Center, will speak on campus Sept. 12 at 5:30 p.m.
Drawing on the symbolism found in the folklore of her Tuscarora and Osage ancestors, Hinton's compositions address parallel themes of American Indian cultural reawakening and human kinship with the natural environment. Shaped by her diverse heritage, Hinton uses mixed media as a form of reconciliation for her own eclectic life experiences, blurring boundaries between conventional and digital mediums to create hybrid art forms. Her intricate, complex and contemporary works feature traditional and digital collage, digital painting, collaged sculpture and appliquéd textiles. Influenced by the traditional Chinese painting techniques she studied in Beijing during the 1980s, Hinton's art reflects the organic beauty she finds in the elements and often incorporates designs and concepts from Southeastern mound culture.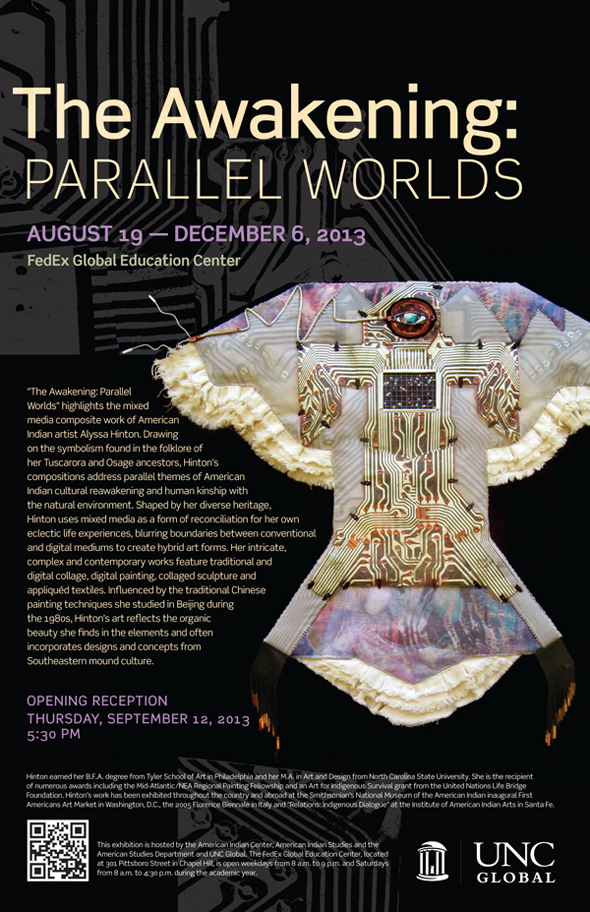 YouTube Video of Artist's Talk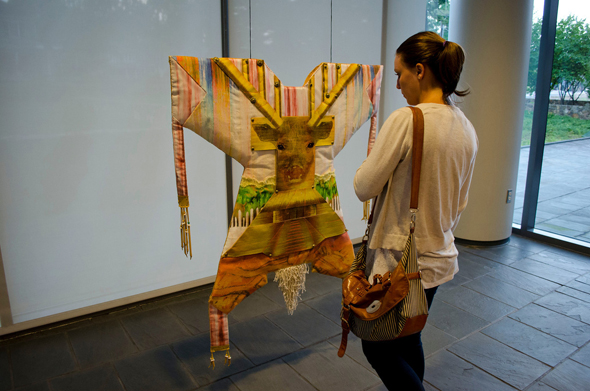 Vimeo Video on Awakening: Parallel Worlds Show at UNC-Chapel Hill:
Hinton earned her B.F.A. degree from Tyler School of Art in Philadelphia and her M.A. in Art and Design from North Carolina State University. She is the recipient of numerous awards including the Mid-Atlantic/NEA Regional Painting Fellowship and an Art for Indigenous Survival grant from the United Nations Life Bridge Foundation. Hinton's work has been exhibited throughout the country and abroad at the Smithsonian's National Museum of the American Indian inaugural First Americans Art Market in Washington, D.C., the 2005 Florence Biennale in Italy and "Relations: Indigenous Dialogue" at the Institute of American Indian Arts in Santa Fe.
This exhibition will end Dec. 6, 2013, and is hosted by the UNC American Indian Center, American Indian Studies, the Department of American Studies and UNC Global.
The center, at 301 Pittsboro Street, is at the corner of Pittsboro and McCauley streets. Parking may be available in the garage under the building weekdays after 5 p.m. and on Saturdays. Building hours are weekdays from 8 a.m. to 9 p.m. and Saturdays from 8 a.m. to 4:30 p.m. except on football game weekends.
The Awakening: Parallel Worlds
August 19 – December 6, 2013
Opening Reception: Thursday, September 12, 2013

This exhibition is hosted by the American Indian Center, American Indian Studies and the American Studies Department and UNC Global. The FedEx Global Education Center, located at 301 Pittsboro Street in Chapel Hill, is open weekdays from 8am to 9pm and Saturdays from 8 a.m. to 4:30 p.m. during the academic year.
http://events.unc.edu/event/the-awakening-parallel-worlds/
http://global.unc.edu/events/the-awakening-parallel-worlds/
FedEx Global Education Center. 301 Pittsboro Street Chapel Hill, NC 27516. Corner of McCauley and Pittsboro Streets Phone: (919) 962-2435
YouTube Video of Artist's Talk