Tribal Memories Come to Life, Aboriginal Voices Magazine
"Alyssa Hinton's talent allows her to dip from the tribal memory and expose the roots of her people. By uniting human with nature and past with present, she challenges her audience to remember their own history as it really is."
-Deanna Dunham, Tribal Memories Come to Life, Aboriginal Voices Magazine, March/April 1999
---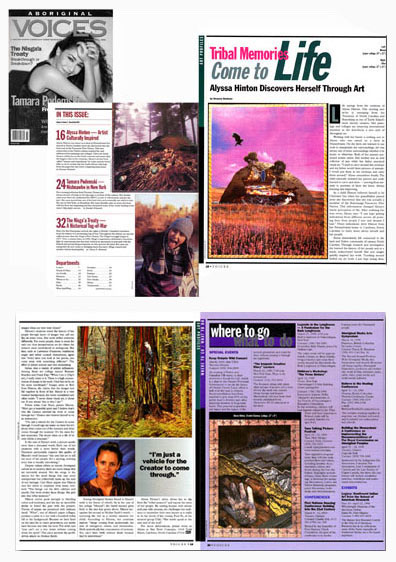 Tribal Memories Come to Life:
Alyssa Hinton Discovers Herself Through Art
By Deanna Dunham
Life springs from the creations of Alyssa Hinton. This exciting new artist is emerging from the Tuscarora of North Carolina and flourishing as one of Turtle Island's most electric creators. Her paintings and collages are attracting international attention as she introduces a new style of Aboriginal art.
Working with her hands is nothing new to Alyssa who was raised on a farm in Pennsylvania. On the farm she learned to use tools to manipulate her surroundings. Art was always one of these surroundings whether it be music or otherwise. Both of her parents possessed artistic talent. Her mother was an avid collector of jazz while her father practiced visual art. "I used to carry around this envelope and my father would draw pictures of animals. I would put them in the envelope and carry them around," Alyssa remembers fondly. The child naturally imitated her parents and easily learned to carve and draw -moving from animals to portraits of faces she knew. Always learning and improving.
As a child Hinton believed herself to be Cherokee but when her grandfather passed away she discovered that she was actually a member of the Katenuaga Tuscarora First Nation. This information changed Alyssa's whole perception of life. After realizing her true roots, Alyssa says: "I just kept getting indications from different arrows all pointing here from people I met and dreams I had." These indications drew Hinton from her Pennsylvania home to Carrboro, North Carolina to learn more about herself and her people.
Alyssa immediately felt connected to the land and Native community of eastern North Carolina. Through research and investigation she learned the history of her people and as a result, rediscovered herself. Her new insight quickly inspired her work. "Looking around fuelled my art work . I just kept seeing these images when my eyes were closed."
Hinton's creations reveal the history of her people through layers of images that call out like an inner voice. Her work strikes everyone differently. For some people, there is room for only one clear interpretation yet for others the subjects seem multi-faced or ambiguous. But fans, such as Lawrence Dunmore, traditional singer and tribal council chairperson, agree that "every time you look at her pieces, you come away with something different". The affect is always intense and very stimulating.
Alyssa cites a variety of artistic influences. Among them are collage master Romare Bearden and Frank Day: "When I see it (Day's art), I really relate to it. There is a high concentration of energy in his work. I feel that we're on the same wavelength." Images seem to flow from Hinton, she claims that the images just fall together in front of her. Raised in a very musical background, she never considered any other outlet: "I never chose visual art, it chose me. It was always 'this is who I am"'.
Fellow artist, Carl Hunt, praises Hinton: "She's got a beautiful spirit and I believe that's why the Creator allowed his work to come through her." Hinton also believes herself to be an instrument.
"I'm just a vehicle for the Creator to come through. I could sign my name on them but it's about what comes out of the moment and what comes through the moment. It's the same for jazz musicians. The music takes on a life of its own within a structure."
In the case of Alyssa's work, a picture speaks more than a thousand words. Each one of her creations tells a story better than words. Dunmore particularly respects this quality of Hinton's work because "she uses her art to tell the story of her people. It's a moving, evolving story that is visually stimulating."
Despite valiant efforts to restore Aboriginal culture in its entirety, there are some things that are inevitably missed. Not the songs or the dances but the small things that may seem unimportant but collectively make up the sum of our heritage. Carl Hunt argues that Hinton uses her talent to emphasize what many overlook: "She brings out the little oddities and querks. Her work evokes those things. She gets into that tribal memory."
Hinton carries great strength in blending colors and mediums, and she has an incredible ability to blend the past with the present. Visions of nature are presented with intricate detail. "Fiber", one of Alyssa's paper collages, portrays a spirit in a tree with a hundred dollar bill in the background. Because we have lived on the land for so many generations our spirits have become one with the land. The artist says "you can't cut a tree down without cutting down the spirit." This piece protests the profit-driven attack on Mother Earth.
Among Aboriginal themes found in Alyssa's work is the theme of rebirth. As in the case of her collage "Mound", the burial mound gives birth to the tree that grows above. Hinton recognizes the mound as Mother Earth's womb, nurturing the tree as a mother nurtures her child. According to Hinton, her creations explore "things coming from underneath, the idea of resurgence, return, and resurrection. Birth symbolically has connotations of newness. You can't have birth without death because they're intertwined."
Alyssa Hinton's talent allows her to dip from the "tribal memory" and expose the roots of her people. By uniting human with nature and past with present, she challenges her audience to remember their own history as it really is. In the words of her cousin, Pura Fe, of the musical group Ulali, "Her works speak to the soul and of the soul".